Book Catalog
What Fits What
by Mike Arman and Kurt Heinrichs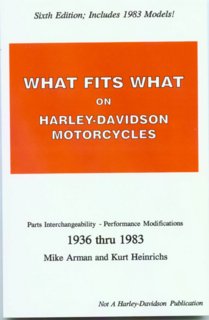 Harley-Davidson parts interchange and high performance for all V-Twins 1936 through 1983, now in its sixth edition with tens of thousands of copies sold world-wide! It covers vitally needed information on souping, restoring, customizing and chopping V-Twin Harleys.

How to: Install Pan jugs on a Knuckle, build a Super Sportster, solve mix-and-match transmission mainshaft length problems, build big twin engines of 84, 90, or 101 thundering cubic inches, and much, much more.

If you do anything with Harleys except "just ride them," you NEED this book!

5 1/2" by 8 1/2", 80 pages, 44 photos, 7 drawings, softcover
$12.00 plus postage and handling, see order blank


Unauthorized Flat Rate Schedule
for Harley-Davidson Motorcycles
by John Bolender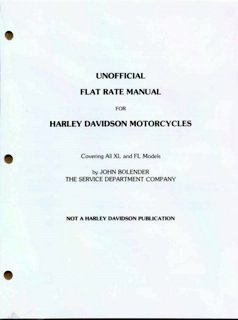 Covers FL and XL models, but not Evolutions.

Time is money, and here's how much! If you're a shop, you need a flat rate book as a guide to determine how much to charge for your work. You can't afford to give it away, but you don't want to gouge, either. If you're a rider, you need one to get an idea of how much this particular repair is going to cost so you can keep your budget in balance (or at least somewhere near it).

Covering FL and XL, the Big Twin and Sportster, this book is written from actual experience, not by guess n' by golly. It was compiled by John Bolender, who for a time manufactured a complete and excellent line of special tools specifically for use on Harleys, so he ought to know (and he does!).

Now here's a promise: Until you need it, this will be the dullest book you ever saw. It doesn't even have any pictures! However, when you do need it (and you will, bro, you will), it will become verrry interesting indeed!

This is a strange one: 26 pages 8 1/2" by 11", and supplied unbound and three-hole punched so you can put it in your own three-ring binder with sheet protectors and use it forever!

$10.00 plus postage and handling, see order blank
Special Tools for Harley-Davidson
Where To Get Them, How To Use Them
tby Mike Arman and Kurt Heinrichs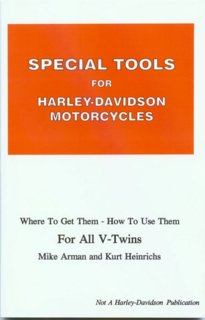 Working on your Harley-Davidson? Here's a listing of every special tool you'll need, with photographs, detailed instructions, where to get them, and how much to pay. Save yourself time, money, and upsetment.

Covering all the pullers, gauges, reamers, lappers, drivers, and other trick tools that you need, it also warns you about the ones you don't need and shouldn't buy, and even shows you some you can make yourself for almost nothing.

Here are the tools for the top end, bottom end, transmission, chassis, drive line, and non-specific tools as well. 63 clear photos, names, addresses, instructions; the works! This book has it all!

5 1/2" by 8 1/2", 64 pages, 63 photos, softcover
$12.00, plus postage and handling, see order blank

Disclaimer #1: These books are not sponsored, endorsed, encouraged, or reviewed by the Harley-Davidson Motor Company. In fact, they heartily wish we would go away quickly and quietly, and take all our books with us, thank you. According to them, these books are absolutely unauthorized, totally unapproved and completely unloved. They are not Harley-Davidson publications, Harley-Davidson is not responsible for their content, and they insist that you completely understand that you can't sue Harley-Davidson, no matter what. The only reason we can actually get away with using the sacred name "Harley-Davidson" in print is because of an inconvenient little item known as the First Amendment, and even Harley-Davidson doesn't have quite enough lawyers, money or firepower to get that taken care of (yet).
Disclaimer #2: Harley-Davidson, Triumph, BMW, Panhead, Yamaha, Suzuki, Kawasaki, V-Twin, Knuckle, Sportster, FL, XL, Evolution, Big Twin and (probably) Shop Dope are trade marks of their respective companies (as if we didn't know that), and M. Arman Publishing makes no claim to them.
Click this dot for order form:


Click this dot for our new on-line shopping cart:


Click this dot to return to Intro page (Home):


4/9/16, added cart
2/7/12, minor corrections for p&h
1/12/06, prices corrected 5/16/09 to match order blank (oops)